The Environment has just made its Lidar dataset more widely available and free to use under the Open Government Licence. Lidar is a type of remote sensing that uses a laser to measure the distance from a sensor to an object, in the case of the Environment Agency these data have been collected from an airborne sensor and processed to accurately represent the surface of the UK down to resolutions as small as 25 cm, although coverage at 1 and 2 metres is more comprehensive. This is a fantastic dataset that can be used for a multitude of applications from drainage and flood mapping to solar resource evaluation, archaeology and visualisation.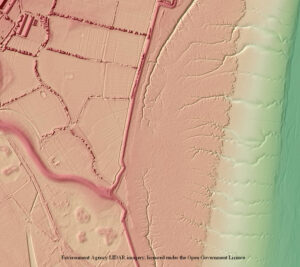 The example above shows the western bank of the River Parrett, the sea defenses, tidal mudflats and in the bottom left a part of the newly created wetland habitat of Steart Marsh. These are one metre resolution data colour coded to show low areas (the River Parrett) in green and higher areas in red. The hard linear red features are flood defences, the fluffy ones are hedgerows. The less prominent linear geometric features are ditches, the dendritic (like a tree) features are natural drainage to the river, partially smoothed by the tidal river flow.
This example shows the Stanton Drew stone circles (plus fallen trees and some livestock). This one metre Environment Agency Lidar data set is similarly colour coded so that green represents lower elevations and red areas higher elevations.
NB These two examples are a combination of colour coded height information modulated with hill shading. All of the information comes from the Lidar. The Stanton Drew example shows not only the Neolithic stone monument but also shadows of the 18th Century field patterns and the final vestiges of that landscape's hedgerows.
Lidar for large parts of Somerset is now available. Terra Sulis can help you make sense of it.
This page contains public sector information licensed under the Open Government Licence v1.0